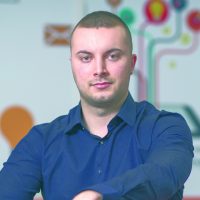 Ivan Nenkov started his career in the entrepreneurship organization Start It Smart, where he managed and developed all marketing activities and processes.
He continued his career with the corporate sales in the advertising industry, winning and working with companies like Microsoft, VMware, ING, Novartis and others. In 2014, he became part of the Software University team, shortly after its founding, taking control over the business relationships, then marketing and business development.
During the last years in SoftUni, Ivan built the organizational structure of the company, along with all operational processes, functions and teams. Also he is the main figure for the market development of the company, along with its new brands and products.
Currently, Ivan is the CEO of SoftUni and all of its brands – SoftUni Digital, SoftUni Creative, SoftUni Kids, SoftUni Svetlina and SoftUni Foundation and he is responsible for the overall operational management and development of the company.
During the last year, Ivan received different personal awards such as "Next Generation Business Leader for 2017" of Capital Magazine; "30 under 30 class 2017" – selection of Forbes Magazine of the most successful Bulgarians under 30 years and "Employee of the year for 2016" of Forbes Magazine.