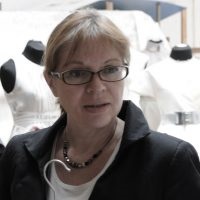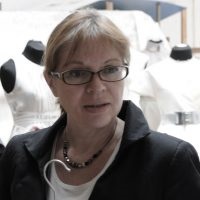 Prof. Maya Bogdanova is fashion designer and Head of Fashion Department of National Academy of Art in Sofia.
Graduated from the National Academy ,  member of the Bulgarian Union of Artists.
Nine years of experience as a fashion designer at the Valentina fashion house in Sofia.
After a specialization in pattern making and draping at Institut Paris – Modeliste in France, she created a fashion studio in Sofia for small boutique series.
In 1999, with the opening of the fashion department in the National Academy of Arts in Sofia, she is invited to give lectures on pattern making at the Department.
Author of  Making Patterns for Fashion Design, 2007.
Since 2007 she works as a full-time professor in pattern making, draping, and design of clothes, and since 2011 is Head of the Department.
She participated in expert committees for accreditation of specialties in design in Lithuania in 2009 and 2014.
Participated in fashion shows with collections, and have presented exhibitions in galleries:
From the idea to it's realization, 2001
Fashion and Painting, 2003
Fashion is DADA, 2007
Costume designer in the Bulgarian film production Sunny Weather, 2011.
Costume and Fashion designer in the documentary Ivan Shishmanov, 2015.
Has organized an academic project for students of the National Academy of Arts and for young artists – a project with two sessions – in 2017 – Intensive Academy of Entrepreneurship in the Creative Industries and in 2018 – Social entrepreneurship in the arts. European and Bulgarian practices with the participation of internationally recognized lecturers.
Since 2017 is President of the foundation of the National Academy of Arts – St Pimen Zografski.