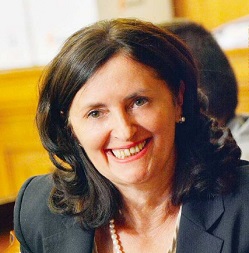 Assoc. Prof. Daniela Bobeva – Filipova
Ex-deputy prime minister
Assoc. Prof. Daniela Bobev – Filipova is lecturer of International Economics and International Finance in UNWE, University of Plovdiv Paisii Hilendarski and VUZF.
In 2013 – 2014 Assoc. Prof. Bobeva was deputy prime minister for economic development, and in the period 2003 – 2013 she was Director of "International Relations" at BNB.
She has worked in the Organization for Economic Cooperation and Development as Program Director, Directorate ELSA.
She was Vice President of Black Sea Trade and Development Bank ( Thessaloniki, Greece), Minister of Trade and Foreign Economic Relations in the interim government of Stefan Sofiyanski.
Assoc. Prof. Bobeva is MA in political economy from the Higher Institute of Economics "Karl Marx", associate professor at the Economic Research Institute at BAS.
Mrs. Bobeva has dozens of publications in specialized journals.