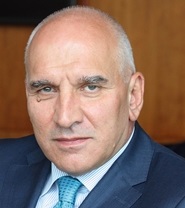 Levon Hampartzoumian
CEO and Chairman of MB, UniCredit Bulbank
Levon Hampartzoumian is the CEO and Chairman of the MB of UniCredit Bulbank since 2001. He is also Deputy Chairman of Confederation of Employers and Industrialists in Bulgaria (CEIBG) and Member of the Management Board of BORIKA (Card Processing JV). He was Chairman of the Board of the Association of Banks in Bulgaria in the periods April 2005 – April 2008 and April 2011 – April 2015.


Levon Hampartzoumian is a non-executive member of the Board of the Institute for Market Economy, the chairman of the Board of Trustees of Sofia University, a member of the Board of Trustees of Higher School of Insurance and Finance and a member of the Board of Trustees of City University of Seattle in Bulgaria.

Levon Hamparztoumian is awarded with the Order of the Star of Italian Solidarity (Ordine della Stella della Solidarieta Italiana) and is honoured with the title Commendatore of the Order at the beginning of May 2008 with a Decree of the President of the Italian Republic Giorgio Napolitano.

In 2012 Levon Hampartzoumian was presented by the President of Bulgaria Rosen Plevneliev with the award Manager of the Year in Bulgaria in the Manager Magazine competition.

In 2007 Mr. Hampartzoumian was awarded by "Atanas Bourov" Foundation for bank management; he is also announced "Banker of the year" twice – by Finance Central Europe magazine in 2005 and by Banker weekly in 2007. In 2006 Mr. Hampartzoumian is awarded for management by Manager Magazine. In the beginning of 2015 the CEO of UniCredit Bulbank Levon Hampartzoumian was awarded the Grand Decoration of Honour in Silver for Services to the Republic of Austria.

Levon Hampartzoumian has a degree in Chemical Engineering and professional experience working for PriceWaterHouse Coopers and Earnst&Young.

During 1999-2001 he was consecutively Deputy Minister of Economy and Executive Director of Sofia's Privatization Agency.