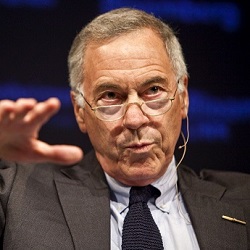 Prof. Steve Hanke
Professor of Applied Economics
Bulgaria's Financial Education Problem: How to Fix It."
 Professor Hanke's class isn't a course, but a job.
Professor Steve Hanke is known in Bulgaria as The Father of the Currency Board.
He designed the currency board system, which was implemented in July 1997 and immediately stopped Bulgaria's hyperinflation.
There have been 56 hyperinflations in the world, including Bulgaria's, and that he have been involved in stopping more of them than any living economist. See: Hanke & Krus 
He is a Professor of Applied Economics at Johns Hopkins University, Forbes Columnist, advisor to Argentina's Minister of Economy and President of the best performing Emerging Market Fund of 1995 (Toronto Trust Mutual Fund Argentina), which was up a stunning 79.25%.
Professor Steve Hanke joined Johns Hopkins faculty in 1969 (whose research budget is $2.2 billion per year, as large as 1/5 of the entire budget for Bulgaria).
Johns Hopkins, where he is a professor for 45 years, is the largest research university in the world  and one of the world's top high quality universities.
He advised US President Ronald Reagan and Bulgarian President Petar Stoyanov, consulted for hedge funds, and most famously, designed currency-stabling systems for countries with woes, such as Argentina and Bulgaria.
In financial education, Professor Hanke has produced many of the world's top traders and bankers.
In the world of trading, he has been trading commodities, currencies, stock and bonds for over 58 years.
Dr. Hanke focusses on the innovations that have occurred in stock index futures and financial futures.
Professor Hanke is a Doctorate honorus causa from the Bulgarian Academy of Sciences.