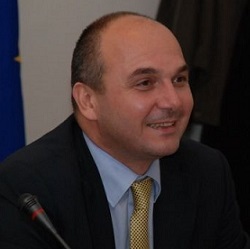 Lyubomir Datsov
Former Deputy Minister of Finance
Lyubomir Datsov is former Deputy Minister of Finance in two consecutive governments.
He worked for the Ministry of Finance from 1992 to 2009.
Datsov began his career as a specialist in "Fiscal policy", directly from the university invited by one of his university lecturers.
He was responsible for budget coordination of EU funds and economic policy.
He is associated with public sector reform and the introduction of budgetary frameworks in Bulgaria and results-oriented budgeting (program budgeting). Under his coordination were:
– The reform of the Bulgarian budget sector, improvement of the system of planning and budget preparation (2001 – 2002)
– Foundation of school for public finance in Bulgaria (2004 – 2005)
– Standardization of the budget proposals and evaluation of public expenditure (2005)
– Coordinator of activities on the implementation of PAL and DPL programs, the World Bank in the sectors of education, health care and social assistance
– Head of the Bulgarian team for the preparation of assessment reports on the sectors of education, health and labor market, and the evaluation reports of public expenditure in the sectors of agriculture, judiciary.
Since 2011 he has been a municipal councilor in Sofia. Member of the Standing Committee on Finance and Budget and the Standing Committee on education, culture, science and cultural diversity.