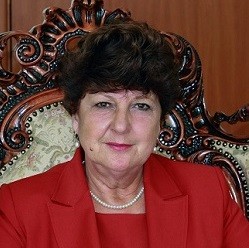 Prof. Anna Nedyalkova,D.Sc.
President of Varna Free University
Prof. Anna Nedyalkova,D.Sc. is President of Varna Free University (VFU) "Chernorizets Hrabar".
Prof. Nedyalkova is a distinguished scientist and lecturer in the field of social management, and also a supporter of the modernization of Bulgarian higher education.
In 1991 she is among the founders of Varna Free University (VFU) "Chernorizets Hrabar", and consecutively holds the academic positions of Head of Department, Vice Dean, Dean and Rector.
As of April 2013, she is President of the university.
As a scientist and a lecturer, she successfully combines teaching, research and implementation of new educational and information technologies in teaching.
Prof. Nedyalkova has done specializations in prestigious international universities, such as Leeds Metropolitan University, the University of Surrey – Gilford, Great Britain, the Free University of Brussels etc.
In her field of scientific interests, she has published monographs, studies, textbooks, articles and papers, presented at international conferences. "Globalism, Regionalism and Anti-Globalism" is published in 2005, co-authored with the internationally renowned scientist Sigmund Bauman.
Prof. Nedyalkova is founder of the Bulgarian Association of Private Schools and its Chair until 2013. She is an active member of Bulgarian and international professional organizations and associations.
For her active public work, for her significant contribution to the preservation and development of the scientific and artistic potential of Varna, for her work in the fields of science, education and culture and for her contribution to free speech, Prof. Nedyalkova has been presented with a number of honorary national and international awards, amongst which are the President's Badge of Honor, the Varna Prize, the "Human Resources Manager" national prize, the "Buditel" Award, Doctor Honoris Causa of Almamer University in Poland etc.
Prof. Nedyalkova is the first Rector of a Bulgarian university who has received full membership in the Club of the Rectors of Europe.
She is member of the European University Association, of the International Informatization Academy at the UN, of the Board of the Black Sea Universities Network, of the International Organization of Management and Economics Lecturers and is an honorable member of the Union of Scientists in Bulgaria.