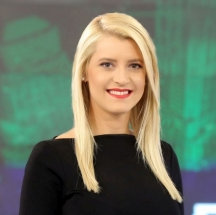 Doriana Rankova interests are in corporate sector, capital markets and macroeconomics.
Doriana became part of Bulgaria ON AIR's team in 2013 as a presenter covering market news. Before that she had experience in finance and accounting companies and in the banking sector.
Doriana has Bachelor's in Finance at New Bulgarian University and a Master of Financial Management. In Bloomberg TV Bulgaria she is author and host of Investbook. A business and investment show broadcasting every weekday evenings from 8PM.