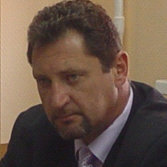 Assoc. Prof. Krasimir Nedialkov graduated in Economics at Varna Free University.
Master in "Management in International Business" and a PhD in "Organization and Management in non-material production".
He is a lecturer on "Institutional system of the EU", "European administration", "The process of decision-making in the EU" , "Development of the European institutions", " Management of international business projects", etc.
In 1998 he was appointed Director of the College of Management and Economics. In 2007 was elected assistant rector of Varna Free University and since April 2013 is Vice President of the University.
He is author of more than 20 monographs, textbooks, articles, papers and reports from scientific conferences in Bulgarian and English.
Assoc. Prof. Nedialkov participates in the development of many national and international projects in the field of tourism and event management, developing the capacity of NGOs for effective partnership with the local administration building clusters of expertise, technology parks and stimulate student entrepreneurship and numerous other projects related to university governance.
He has experience also in private business development and construction of yachts.