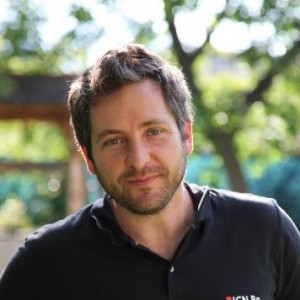 Dimitar Hinkov was born and raised in artists' family. Being a grandson /Hristo Boyadjiev/ and a son / prof. Anna Boyadjieva/ of two of the Bulgarian most prominent artists, it was inevitable to be fascinated by the world of art.
Education:
2011 PhD in Art – New Bulgarian University, Sofia, Bulgaria
1999 Cite International des Art – Paris, France
1998 Cite International des Art – Paris, France
1998 Master Degree in Art of Painting – National Art Academy, Sofia, Bulgaria
1991 Secondary Art School – Plovdiv, Bulgaria
Teaches art in New Bulgarian University.
Exhibitions:
49 solo and 72 group exhibitions internationally in galeries, museums, private collections.
Some if his solo exhibitions:
B.AGL, Berlin, Germany, 2015
ICI Art Gallery, Istanbul, Turkey, 2014
Sredets Gallery, Sofia, Bulgaria, 2013/2009
Didier Dourat Gallery, Malaga, Spain, 2005
Via Larga Gallery, Florence, Italy, 2004
Regart Gallery, Paris, France, 2004/2003/2002
Elektra Gallery, Toremolinos, Spain, 2003
Deivis Gallery, Washingotn, USA, 2003
Barry Gallery, Washington, USA, 2002
Some if his group exhibitions:
Salon D'Automne – Paris, France 2015/2014
August Collection Saatchi Art Gallery, Curated by Rebecca Wilson, 2014
Art Fair, Hangzhou, China, 2014
Zhejiang Art Museum, Hangzhou, China, 2014
6th International Bienele of Small Forms, City Gallery, Pleven, Bulgaria, 2012
Contemporary Bienele Art, City Gallery, Varna, Bulgaria, 2011
Аrt CourGallerry, Paris, France, 2002.
www.arthinkov.com