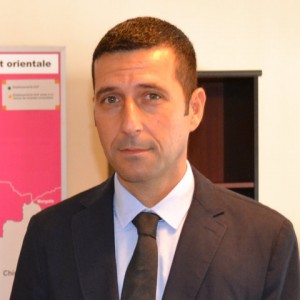 Director of the French Institute in Sofia and Conseiller de Coopération et d'Action Culturelle.
Professor and researcher in Mathematics in Universiti of Corsica Pasquale Paoli, France.
2013-2014 : Professor of Mathematics at the University – Chargé de mission – France
2012-2013 : Deputy Cultural Co-operation and Action Advisor – Romania
2006-2010 : International Technical Expert – Egypt. Establishment of the French engineering school in Cairo: project awarded by the Prix Louis D. of the Institut de France (€ 750,000, June 2008).
Held different management positions in several fields of international cooperation at an expert level.
Assisting in the setting up of cultural projects linked to Francophone, scientific and university cooperation, debate about ideas, and in the search for suitable partners, especially in the framework of entrepreneurship.
Part of the major European research infrastructure project « ELI Nuclear Physics » with the teams of Thales group.
Worked in the Regional Francophone Centre for Social Sciences of Bucharest, Romania, laureate of Louis D. Prize of the « Institut de France » in 2012.
Initiated the first International white paper on call for tenders between the French and the Romanian national agencies for research (2011).
Director of AUF's Regional Office in Eastern Europe in 2014.
Interested in multilateral European relations, European culture and building better understanding of the social reality. Set up actions in the field of professional integration and training in cooperation with major companies like Renault-Dacia, Lafarge, Orange, Michelin and KPMG. Negotiated cooperation agreements between AUF and the National Research Agencies of three countries (Romania, Bulgaria and Armenia).
Studied Mathematics and Physics. PhD in Mathematics.
Published several articles in various prestigious magazines.
Knight of Palmes Académiques.
Languages: English, French, Italian, Corsican, Spanish and Romanian.