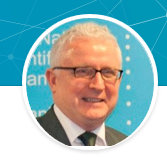 Michael Forbes has been Ambassador to Bulgaria since October 2016.
Prior to his appointment in Bulgaria, Ambassador Forbes served as Permanent Representative of Ireland to the OECD and UNESCO in Paris. From 2009 to 2012, he was the Director for Europe and Asia at the Irish Department of Foreign Affairs and Trade.
Prior to that he served as Ireland's Ambassador to Israel. An economics graduate of Trinity College Dublin, Ambassador Forbes is a native of Dublin.